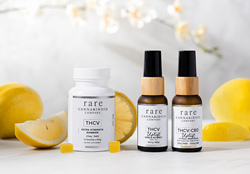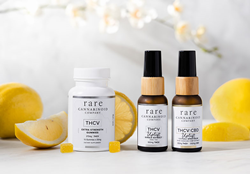 We designed this offer on our THCV products to help people get in shape and feel their best in 2023.

HONOLULU (PRWEB)
December 30, 2022
Rare Cannabinoid Company is offering a special deal on THCV oil tinctures and THCV gummies to help customers kickstart their New Year's Resolutions.
Buy One Get One 50% Off. The offer pertains to:


"We designed this offer on our THCV products to help people get in shape and feel their best in 2023," said a company spokesperson.
What is THCV? Found in hemp and cannabis, THCV (tetrahydrocannabivarin) is a minor cannabinoid that naturally occurs in very small quantities. Although it sounds similar to THC (tetrahydrocannabinol), THCV effects are very different. In addition to not being psychoactive, THCV benefits are quite unique.
Reviews show that people mostly take THCV gummies and THCV tinctures with the goals of:
Suppressing appetite and aiding weight loss

Increasing energy and alertness

Reducing nicotine and other cravings
"In rodent studies, THCV decreases appetite, increases satiety, and up-regulates energy metabolism, making it a clinically useful remedy for weight loss and management of obesity and type 2 diabetic patients," says the National Library of Medicine.
Meanwhile, this rodent study, showed potential anti-nicotine effects.
However, it is important to note that, similar to CBD and other cannabinoids, THCV research is still in its infancy and mostly limited to animal and preclinical studies. THCV edibles and oils should not be used to diagnose, treat, cure, or prevent any disease.
Despite increased interest in potential THCV weight loss, THCV energy, and other possible THCV benefits or side effects, studies are lacking. This is largely due to the previous legal restrictions on hemp and because THCV extract was only able to be isolated recently. In fact, Rare Cannabinoid Company was the first to offer a pure THCV oil for sale online and in stores.
Details of Rare Cannabinoid Company's THCV Offer: There is no coupon code necessary. To buy THCV with this deal, customers will put two THCV products in their cart and the lease expensive will be 50% off. There is no limit to the number of THCV oil products they can buy. If they buy 4, 2 will be 50% off. If they buy 6, 3 will be 50% off etc.
Offer ends the evening of Monday, January 9. Or while supplies last.
Rare Cannabinoid Company is based in the 50th state of Hawaii. All products are manufactured in a CGMP-certified facility and undergo third-party lab testing with results online. Products from Rare Cannabinoid Company and its sister brand, Hawaiian Choice CBD, can be found in about 400 locations across the United States, Japan, Brazil, and elsewhere. These include Hawaiian full spectrum CBD (cannabidiol), broad spectrum CBD, CBD isolate, and pure oils and gummies and blends of CBC (cannabichromene), CBG (cannabigerol), CBN (cannabinol), CBGA (cannabigerolic acid), CBDA (cannabidiolic acid), THC, THCV, and terpenes.
For the current THCV BOGO 50% Off offer, the items on sale are:
THCV gummies: Extra strength THCV gummies each contain 25mg THCV, which is a very large amount of THCV extract as others on the market usually contain between 1 and 5 mg. They are vegan, and naturally flavored with lemon.
Pure THCV oil tincture: The world's first purified THCV tincture contains 500mg THCV in certified organic MCT coconut oil.
THCV and full spectrum Hawaiian CBD oil blend: This one-to-one blend contains pure THCV oil and CBD extracted from premium hemp grown on the Hawaiian island of Maui. As a rich, full spectrum oil, it offers the entourage effect.
Customers can buy THCV online with the special BOGO 50% Off offer here.
Share article on social media or email: